Two New Standup Specials to Download!


CHECK OUT OUR NEW CRITICALLY ACCLAIMED ROOM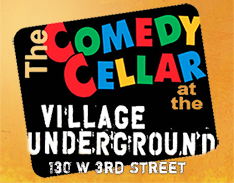 A larger and more comfortable version of the Comedy Cellar. Right around the corner! Same amazing atmosphere.
Home of DAVE ATTELL'S new "COMEDY UNDERGROUND" series on Comedy Central, and TIME OUT NY 2013 WINNER: #1 ON BEST NIGHTLIFE LIST: The new iteration offers wider aisles and more personal space. The Underground's decor—brick wall, stained-glass signage, floral vase, piano—is visually identical to its precursor, but features upgrades such as video screens, tiered seating platforms that improve sight lines, a lower and smaller stage, and added speakers. The result is a more physically relaxed experience that emphasizes the brand's dedication to professionalism while promising an air of unpredictability.
Show Times

3 Shows: 8:00pm, 9:45pm & 11:30pm

3 Shows: 7:45, 9:30 & 11:15 pm

WED & THURS

:

– Two Rooms - 

4 Shows:

MacDougal St: 7:45, 9:30 & 11:30 pm
Village Underground: 8:00pm

FRIDAY

:

– Two Rooms - 

5 Shows:

MacDougal St: 7, 8:45, 10:30pm & 12:15am
Village Underground: 8:00pm

SATURDAY: – Two Rooms - 

7 Shows:

MacDougal Street: 7, 8:45, 10:30pm & 12:15am
Village Underground: 7:15pm & 9:15pm

MAKE A RESERVATION
VIEW SPECIAL OFFER
VIEW PHOTO GALLERY
Line Up
Listen to the Comedy Cellar Show, Every Thursday Evening 7:00 on Sirius 99.

Just to let you know… From time to time comedians need to cancel, so we cannot guarantee the appearance of any individual performer. On the other hand we often have great stars dropping in without notice, so we feel it kinda evens itself out. In any event, our shows are always great!