Reservation
Two New Standup Specials to Download!


CHECK OUT OUR NEW CRITICALLY ACCLAIMED ROOM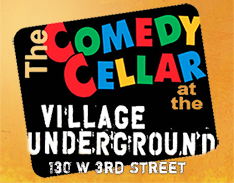 A larger and more comfortable version of the Comedy Cellar. Right around the corner! Same amazing atmosphere.
Home of DAVE ATTELL'S new "COMEDY UNDERGROUND" series on Comedy Central, and TIME OUT NY 2013 WINNER: #1 ON BEST NIGHTLIFE LIST: The new iteration offers wider aisles and more personal space. The Underground's decor—brick wall, stained-glass signage, floral vase, piano—is visually identical to its precursor, but features upgrades such as video screens, tiered seating platforms that improve sight lines, a lower and smaller stage, and added speakers. The result is a more physically relaxed experience that emphasizes the brand's dedication to professionalism while promising an air of unpredictability.
NOTE:

INDIVIDUAL COMEDIAN APPEARANCE SUBJECT TO CHANGE WITHOUT NOTICE